The trafficability of road and parking facilities from the aspect of driving geometry is an elementary quality feature. It is hereby important to not only formally observe the regular dimensions, but to provide a well-considered destination of the space of moving of the vehicles from the point of view of traffic planning and the respectively required safety clearances. A special attention are demanding the exceptions that are not registered in EAR 05, be it regarding the vehicle size or the concrete design of the building structure, or the lead of the driving lane. It must be stated that a large part of the faults, being an issue in court of jurisdiction, are based on the wrong driving geometry of parking facilities – often enough, because the valid requirements for the regular dimensions have not been observed.
We as traffic planners have at our disposal the recognized tool "RBSV Policies for Rating vehicles and minimum turning curves for testing the trafficability of traffic areas" (FGSV, recent edition 2020). The turning curves, from the top view on the deck, describe in the ideal case the minimal used traffic space. This paper is not only a catalogue of typical minimum turning curves at various speed, is also offers the basics of their application in the process of designing facilities for the stationary and moving vehicle traffic, the minimum turning curves enable to deduce the required traffic area for any type of vehicle and to check layouts deviating from the regular drafts regarding their trafficability. Thus, all variations of specific conditions of each structure can be taken into consideration.
As a tool in addition to the FGSV-minimum turning curves we also use, along with AutoCAD, the special software AutoTURN, whereby we permanently collaborate in its continuous updating as Beta-testers. It enables the CAD-trained expert planner to design minimum turning curves for any wheel vehicles into CAD-plans and so to present every specific case individually.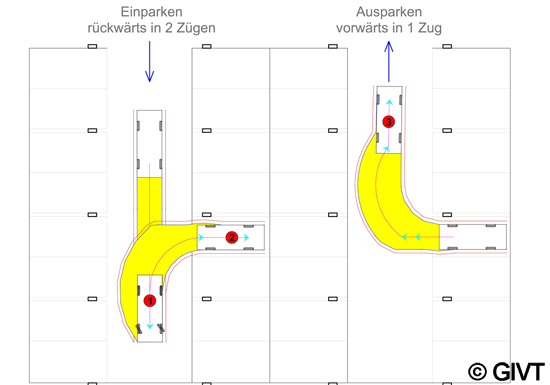 Example for a parking out procedure in 3 moves
In case of a defined user group and less comfortable parking layouts more moves have to be accepted. Altogether 5 moves are tolerable under these conditions. 7 and more moves are not reasonable for the user and would limit usability and accessibility to a large extent respectively would make it impossible to use the parking space.
Our services
When offering our services regarding planning and consultation we are basically acting on the grounds of our know-how for the respective requirements in terms of driving geometry.
As special services regarding the driving geometry we offer as integral part of planning and expertises:
Drafts based on driving geometry
of lanes, tracks, parking spaces and ramps under consideration of the required safety clearances, as well as of the relevant rules respectively statement of grounds when there is a deviation from the standard case
Drafts resp. tests
of delivery situations and fire lanes, driveways and set-up areas
Entry of discretionary minimum turning curves
in infrastructure and draft plans, including the required safety clearances
Assessment of planning documentation and sites
with respect to trafficability by defined vehicles and classes of vehicles
Deduction of correction recommendations
Preparation of the respective certificates
Special planning consultation and assistance
for projects with parking facilities for street vehicles of any kind including the infrastructure of deliveries and disposal